AgEBB-MU CAFNR Extension
Design Storm Alert System (DSAS)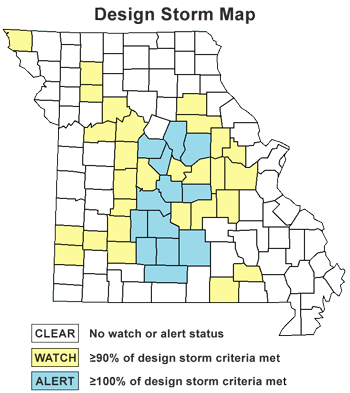 The DSAS is a web-based monitoring system tracking precipitation accumulation across Missouri. DSAS is updated daily and reports which counties have met or exceeded various design storm criteria. A design storm is the amount of rain for which a structure was designed.
The current DSAS is focused on managing open/uncovered storages used for manure and domestic wastewater.
Reports from DSAS can be obtained:
Website: Design Storm Maps indicates which counties have met or exceeded various design storm criteria.
More Information
Applicability to Your Farm
DSAS watches and alerts are to be used as guides for businesses managing structures subject to individual design storms. Use a local rain gauge to confirm reported precipitation events apply to your farm.
DSAS collects the highest precipitation point in a county. This precipitation estimate may not apply to every portion of the county or to your farm. However, if a watch level is designated for a county, rain gauges and impoundment water and manure levels should be monitored carefully. If an alert is issued, individuals should take, or consider taking, action.
Individuals with uncovered manure storages located in areas where chronic rainfall is occurring need to monitor liquid levels and compare their actual liquid levels to their expected levels as stated in their nutrient management plan to assess how much faster their storage may be filling. The remaining available storage period should be evaluated in conjunction with their nutrient management plan to estimate when the storage may be full and land application activities need to begin. Remember, land application activities will likely need to begin sooner than was initially planned when rainfall exceeds design storm criteria reported by these alerts.
Taking Action
Use alerts to intensify monitoring levels of manure and water in the storage system.
If the storage system is filling up faster than expected due to rainfall, contact your regional DNR office to establish a contingency spreading plan when weather permits.