Central Missouri Produce Auction, Inc.

Selling Fresh, Missouri Grown Produce Wholesale at Auction
The place to buy and sell local farm fresh produce & hanging baskets, bedding plants, plant starters for containers, pumpkins, fall decoration and pot mums.
Located in Central Missouri, on Highway E, 12 miles south of US 50 or 10 miles north of Versailles.
37808 Highway E
Fortuna MO 65034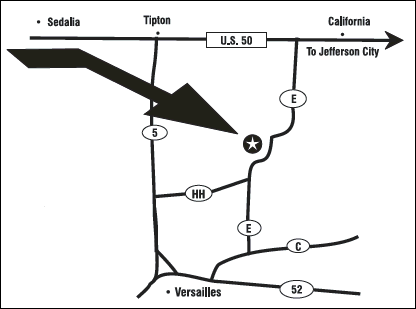 Central Missouri Produce Auction, Inc, is a corporation owned by 28 shareholders, mostly growers. In the spring of 1994, we constructed a new auction facility for the purpose of selling produce, providing a market for interested growers along with a source of fresh produce. Perishable crops are picked just hours before the sale.
The auction is directed to wholesale buyers, such as stores, roadside stands, farm markets, etc. But anyone that can use produce for canning, freezing, etc is welcome to buy. There are always some small lots.
The idea of selling produce at auction was formed by several local growers who realized a need for a central point for growers and buyers to gather. Also, they had observed the huge success of four similar auctions among the Mennonite and Amish communities in Eastern Pennsylvania.
Our Mission to the Buyer is to provide first class service along with a premium quality product.
Our Mission to the Grower is to provide a dependable wholsale outlet for the local producers of the horticulture commodities.
2021 Auction Schedule
Seasonal Produce & Flower Auctions
Auctions every Monday, Wednesday & Friday
April 7th to October 15th
Mondays - 12:00 p.m. noon
Wednesdays & Fridays - 10:00 a.m.
*Wednesday Sales ONLY after Oct 15th Until Season Ends
Winter Plant & Plug Auctions
Every Wednesday from January 27th - April 7th @ 10:00 a.m.
Greenhouse & Produce Equipment Consignment Auction
Wednesday, March 3rd - 10:00 a.m.
Auctions on Memorial & Labor Days too!
Wholesale Produce
Just Picked for Freshness and Flavor
Graded and Packed in Standard Containers
Selling By Box, Pallet or Bin Lots
Order Buyer Service Available for Approved Customers
Selling in Season:
Early: Flowers & Greenhouse Produce
Mid-Season: Wide Range of Fruits & Vegetables
Fall: Large Selection Pumpkins & Ornamentals, Mums & Late Produce
Terms and Conditions
Anyone who grows produce within a 100-mile radius of the Central Missouri Produce Auction is welcome to consign. All others should make prior arrangements.
Consistently cosigned produce that is grown within a 25-mile radius of Central Missouri Produce Auction will be sold first.
Most local growers are FSMA trained and certified.
Commission rate is 7% + $1.00 per lot.
There are packaging restrictions to keep the product as uniform as possible. Ask for our Packaging and Grading Guide. New boxes will be available at the auction.
Consigners will be assigned permanent numbers, enabling buyers to buy more consistently.
Buyers need to have their sales tax number in our file or pay sales tax.
This auction has a NO No-Sale policy.
Thank you for helping us run an efficient and fast-paced auction
For more information, contact:
John Shirk, Manager
Auction Days Only: 660-337-6227
Cell: 573-789-6167
No Sunday calls, please!
Auction Market Report: 712-432-8570


[ AgEBB Home Page ] - [ Produce Auction Home ] - [ Comments ]