Green Horizons
Volume 8, Number 3
Summer 2004

Missouri pecan growers seek "sweet spot" in organic market


by Rachel McCoy
UMCA Information Specialist

From the first bite of a native Missouri pecan, people know there's something special and different about these nuts. The taste brings families year after year to the central Missouri town of Brunswick, Mo., and the state's southwest area of Vernon County, Mo., the two regions identified with the majority of Missouri's pecan production. Missouri has retained thousands of acres of native pecan trees in its riverbottom regions, making the state an excellent source of "northern" pecans - known for their smaller size and rich flavor that distinguishes them from the nation's southern-grown pecans.

The Missouri Northern Pecan Growers LLC, (MNPG) based in Nevada, Mo., has found three simple words to describe this distinction: "sweeter by nature." The tagline is meant to express that pecans grown in Missouri naturally offer a sweeter, richer flavor than southern-grown pecans, due to a smaller size and higher oil content.

Recently, a new symbol has been capturing consumer attention on packages of fresh pecans from the small farmer-owned company. MNPG's newest product is labeled "American Native" Pecan, Certified 100% Organic, and is accompanied by the USDA Certified Organic logo.

"We have always guaranteed our pecans to be free of pesticides, herbicides and fungicides," said Drew Kimmell, MNPG managing partner. "The organic certification shows we are serious about offering a product that is not only healthy, but also protects the environment from unnecessary pollutants."

The company, already known for pesticide-free native pecans, obtained organic certification from the Missouri Department of Agriculture Certified Organic program in 2003, and offered organic Missouri native pecans to buyers for the first time at the May "All Things Organic ™" conference in Chicago, Ill. Sponsored by the Organic Trade Association (OTA), more than 30,000 visitors attended the event that is exclusively focused on the organic products market. According to the OTA, the organic industry is booming - growing at a rate of 20 percent annually - with U.S. retail sales of organic products projected to reach $20 billion by 2005.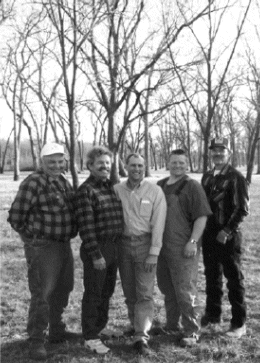 MNPG LLC partners, from left: Max Senkevech, Drew Kimmell, Joe Wilson, Kevin Hines, and Wayne Harth.
"Buyers from all over the world sampled Missouri native pecans, with glowing comments on their flavor," said Diana Daniels, MNPG marketing and sales executive. "The show produced immediate orders from bakeries, food co-ops and retail stores."
Aligning with Market Trends
With its recent organic certification, MNPG is rapidly developing a new audience and higher value for Missouri native pecan producers. Kimmell personally assisted all MNPG growers toward achieving official organic certification last year, after a detailed 2003 market research analysis showed excellent potential for expansion into the profitable organic market. All the certified organic producers participating in the company are located in Vernon County where MNPG coordinates the processing and marketing of the pecans.
Now recognized by the American Heart Association to provide a range of heart-healthy and cholesterollowering benefits, demand for pecans is rising as consumers take a more active approach to their health. Kimmell said there is an increasing need for more organic pecan production to meet this demand. In a spring meeting, he told University of Missouri Center for Agroforestry (UMCA) staff that 2,000 cases of packaged organic pecans had already been ordered, with additional large orders being developed. More than three-fourths of the 2003 crop has already been sold.
"The markets are certainly there," Kimmel said. "We're exploring several options because the profit potential for certified organic nuts is continually rising."
Exploring new markets
MNPG conventional pecans can be purchased in more than 240 retail stores in Missouri, Kansas, Iowa, South Dakota, Minnesota, Nebraska, Illinois, Wisconsin and California. The company is investigating a buyers' club for consumers who use organic nuts frequently, and direct selling to consumers via the Internet and specialty magazines, especially in the vegetarian and healthy living segments. Retail specialty grocers, health food stores and confectionaries are additional profitable markets, not just for shelled nutmeats, but for "Sinful Delight," a chocolate, caramel and pecan product the growers' recently introduced. Mainstream grocers are another large market, as most are continually increasing their supply of certified organic products to keep up with consumer demand.
Kimmell said Midwestern growers may have a unique niche market opportunity, in that there are no other certified, branded organic pecan products available and few traditional growers working actively in the organic market. This quicklygrowing market potential could allow MNPG to greatly increase its purchase of organic pecans each year. The organization plans to focus on gaining retail distribution in the west, northwest, northern and northeast markets where southern pecans are not favored. MNPG is developing grower programs, including management and training, for producers of organic nuts.
"The challenge is to identify and grow directly for the consumer who recognizes the value of a certified organic product," said Joe Wilson, MNPG partner. "We're already selling to Kansas City-area restaurants, but predominately conventional pecans at this time."
One market barrier Kimmell and Wilson identified is the expense of roadside billboards directing travelers to opportunities to purchase value added products from local farmers. Yearly expenses for a roadside billboard can be thousands of dollars. Another challenge lies in making a clear distinction to consumers that MNPG is offering "certified organic" pecans, which requires an investment of time and financial resources to complete the rigorous organic certification process. The ingredient sector of the baking and snack food industry may offer an additional new market for organic pecan oils, and MNPG growers are identifying baking industry trade magazines for possible advertising outlets.
"We feel direct marketing and selling to consumers are our most profitable options," Kimmell said. "This effort can be supplemented by the candy and snack industry, especially as we remain the only branded organic pecan producer."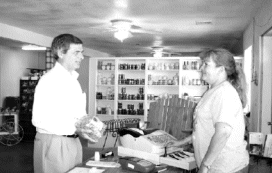 2003 Market Research: Ann Wilkinson Linda Matlock, MNPG employee, helps a customer select a package of fresh Missouri native pecans at the growers' retail store in Nevada, Mo.
Wilson is confident that the distinct flavor and quality of the growers' pecans will continue to open doors in several markets. "We believe the 'Missouri flavor' will introduce a new image for our pecan taste," he said. "Processing and removing the shell of our smaller native pecan provides a more convenient product for the purchaser, great for snacks or cooking."
Working Collaboratively
UMCA has worked within the state's native pecan industry for many years, and is hoping to collaborate actively with MNPG to improve the organic pecan market through enhanced pest control, effective management of native pecan stands and market research. The Center is currently working to connect with nutrition and dietetics professionals for possible joint research and grant activities evaluating the health benefits of locallygrown nuts in patients' diets. To help increase consumer awareness and demand for nuts, the Center is offering nutritional information about pecans, black walnuts and chestnuts through its new publication series, "NUTrition and Your Health." Interestingly, the 2003 MNPG market study showed that health and nutrition is the number one motivator for consumers in purchasing an organic product over a non-organic product, followed closely by taste - creating an excellent marketing niche for MNPG organic pecans.
"Missouri landowners have a history of harvesting native nuts, growing a business on the premise that the nuts are sweeter and better tasting," said Michael Gold, UMCA associate director. "Now these landowners are in a position to establish a strong presence in the organic produce market, bringing a host of benefits for family farms and the state's natural environment."
Missouri Northern Pecan Growers, LLC, was founded in 2000 by southwest Missouri pecan growers to distinguish the native Missouri pecan from the Southern pecan and create a new market for Missouri pecan products. For more information, visit www.mopecans.com.
---
[ Back to Articles ]