Green Horizons
Volume 7, Number 3
Winter 2003

Forest Products Marketing Conference Benefits Landowners
Julie Rhoads
UMCA Training Specialist
The recent Special Forest Products Marketing and Production Conference, held in Cape Girardeau, Mo. and hosted by the University of Missouri Center for Agroforesty, enlightened 100 conference participants on the numerous ways to earn income from their woodland other than just growing trees for timber production. Special forest products consist of an array of products intentionally produced within a modified forest canopy, an agroforestry practice known as "forest farming."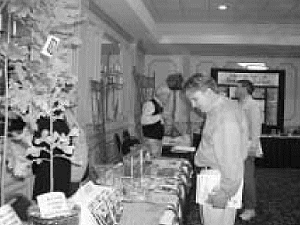 Participants browsed the exhibits in the display room.
Eighteen speakers were brought in representing the Center for Agroforestry; University Extension programs in the states of Washington, Illinois, Nebraska, and Texas; retail and wholesale operations in Missouri, Minnesota, Arkansas, and Illinois; and a Cooperative Development Service based in Wisconsin. The speakers distributed printed materials and made slide presentations demonstrating the methods of production and marketing for the commodities they represented.
Speakers brought exhibits to educate participants and allow them to see the actual products being produced. Exhibitors interacted with landowners during the evening of the first day and had been encouraged in advance of the conference to bring products to sell. Many landowners won items donated as door prizes by the exhibitors and the University of Missouri College of Agriculture, Food and Natural Resources.
A majority of the exhibitors were interviewed on videotape by Center for Agroforestry personnel for inclusion in a video to be produced in the future on the topic of forest farming.
The various topics exhibited and discussed throughout the two day conference included forest mushrooms, tree and shrub seeds, medicinal plants and herbs, woodland wildflowers, woody florals, wild edibles, craft materials, hive products, custom sawn and specialty wood, pecans, pollen and pine straw.
---
[ Back to Articles ]