Green Horizons
Volume 7, Number 3
Winter 2003

Value Added: The means to a more profitable end
Dusty Walter
UMCA Training Specialist
Agroforestry provides a way for landowners to enhance and diversify on-farm economic opportunities. If that isnít encouragement enough to implement agroforestry, consider the fact that it is possible to do this while practicing an ethic of scientifically based environmental stewardship. To some folks, a down side to plantings that incorporate agroforestry technologies is that products which are produced typically do not fit into traditional commodity type markets (either in type or because of their comparatively small scale production). While this conundrum is faced by some of the agroforestry practices, the issues of scale and/or marketing of niche products are also affecting many family farms across the nation. Therefore, in an effort to maximize the profit from investments on their farms, more and more farmers have begun applying principles broadly categorized as value-added.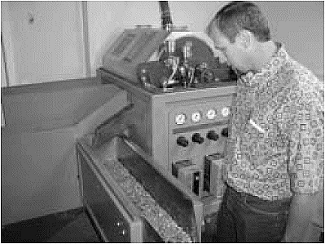 Joe Wilson inspects cracked pecans as they come out of the Quantz Rotary Nutcracking machine.
The term value-added references methods of increasing the profit realized from goods produced. Often it involves the processing and/or packaging of a product in such a fashion that the producer is able to sell to a broader market. But, it may also be that the processing places the product in a better position to enter niche or specialty markets. Niche markets refer to product arenas that sell for a specific, often narrow, use or purpose to an identifiable clientele. This type of direct marketing to a consumer may be contrasted to the selling of produce in wholesale or commodity markets. These broader markets remove much of the control over pricing and investment recovery that might have existed for the producer. So then, the idea behind increased involvement in the processing of raw farm products is to increase their value and/or marketability to the public in order for the farmer/grower to retain a greater share of the profit from their sales.
Recently, I had the opportunity to visit an operation involved with adding value to pecans. Located in Nevada Missouri, the Missouri Northern Pecan Growers LLC (MNPG) (Limited Liability Corporation) has been in the business of value-added pecan processing for about two years. Drew Kimmell, Max Senkevech, Joe Wilson, Wayne Harth, Kevin Hines, and Jim and Florence Wilson formed a sevenmember cooperative that emphasizes growing and producing locally grown Missouri native pecans. Native pecans growing in Missouri are at the northern limits of their natural range and because of many variables, including weather and the length of growing season, the nut produced is smaller than varieties grown in southern states. Since perception and appearance often create better market opportunities, some would see the production of a smaller nut as being at a marketing disadvantage. Yet, what Joe Wilson and other members of the MNPG have recognized and are promoting is that the native/northern pecan has a better flavor. This sweeter flavor has been linked to the nutís higher oil content. In the 1970ís Loyle Byrd sent his Missouri pecans to be tested, and it was identified that their oil content was 73 percent. Comparatively, the larger southern grown pecans had an oil content of closer to 60 percent. Coupled with the promotional packaging as a locally (Missouri) grown pecan, the sweeter taste and higher oil content have become components of a successful marketing plan.
In addition to harvesting and cleaning of cooperative membersí pecans, the MNPG also offers the services of its plant to other pecan growers. MNPGís initial investment in plant, equipment and expertise can benefit other growers seeking to add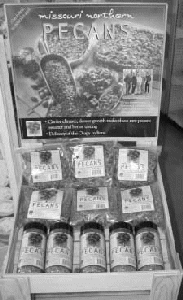 Attractive packaging makes products more marketable as shown here in a grocery store display for Missouri Northern Pecans.

value to the pecans they grow and wish to selfmarket. Most all of the pecans processed, an estimated 98%, are locally grown. They charge 8-10 cents per pound to clean debris from pecan loads, and an additional 25 cents per pound for cracking. This year MNPG is marketing cracked pecans for about $1.50 per pound. Further value can also be added to cracked pecans. Once cracked, the nut meats can be separated, packaged, and then as a result of the additional processing, sold for a higher price. The closer to ready-for-use a grower can make his/her product, the greater the value to the consumer. Additional methods for maximizing profit include identifying markets for products typically disposed of as waste from processing. Drew Kimmell believes in taking a product that is without a market and developing one. For instance, MNPG has begun producing a container of small chips and pieces of pecan nutmeat for shaking onto salads and ice cream. Kimmellís philosophy goes beyond recognizing a niche opportunity; it also involves marketing activities. Efforts of MNPG ensure consumers will associate Missouri pecans with MNPG and become repeat customers.

Joe Wilson and others with MNPG have placed an emphasis on promoting and selling pecan products outside the traditional wholesale markets. With Missouri producing less than 3% of the nationís pecans, innovative packaging and marketing become important parts of building a successful business around the northern pecan. MNPG has been able to utilize a Missouri Value- Added grant designed to promote products made in Missouri and has hired a marketing consultant. As its business has grown, so has its ability and efforts to enter larger markets. You can now find the Missouri Northern Pecansí label and product in area chain stores such as Hy-Vee and IGA. Keep in mind that growth at a smart rate (controlled expansion), as well as knowing your capacity for production (the ability to meet demand), all become essential components to becoming successful.

A key to success in the business of value-added products is recognizing the traits that make a product unique. Creativity also has a role in business success. For farmers and landowners producing goods from the land, the opportunities associated with adding value to those goods should not be overlooked. In growing a product you have already done some of the hardest work: working the ground, planting, maintenance and harvesting. Value-added processing takes your work one step, and then another step further, (as many steps as you would like to take) continually working you and your product closer to the consumer. This also enables you to better tailor products to meet the wants and needs of consumers. Does that mean that the valueadded process is for everyone and every commodity? No. For instance, if you are a producer who would rather not interact with customers on a daily basis, you probably should not turn your barn into a storefront of products for sale. But, you still might consider additional processing and packaging and let someone else conduct the final marketing. By developing a Limited Liability Corporation, such as MNPG has done, several things are accomplished including having a greater supply of raw goods for entering larger markets through bringing different people together as members. Moreover, other benefits of involving many members are realized as each is encouraged to exercise his or her individualized skills towards better marketing and product sales. What ever your decision, for those who are willing to put in the time and money towards developing an enhanced product and/or its marketing, the additional income generated is often worth the investment.
---
[ Back to Articles ]