Green Horizons
Volume 7, Number 1
Spring 2002

22nd Annual Missouri
Tree Farm Conference
The 22nd annual Missouri Tree Farm Conference brought a pre- conference demonstration from MU Forestry Professor John Dwyer and Consulting Foresters Fred Crouse and Dennis McDevitt, to a group of 35 tree farmers. The group met at a private farm near Eldon, Mo. on Feb. 22 to discuss timber stand and wildlife habitat improvement.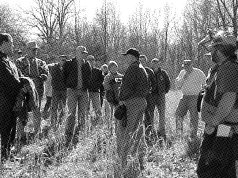 John Dwyer (center), MU Forestry Professor and Joe Glenn (right), a professional chainsaw safety instructor, demonstrate timber stand improvement to a group of private woodland owners who attended the Tree Farm Conference.
Professional Chainsaw Safety Instructor Joe Glenn provided the group with a chainsaw safety demonstration. Glenn is the official Professional Logging Instructor for IFIC in Indiana and MFPA in Missouri. At his demonstrations he discusses appropriate safety equipment, safe cutting methods and increasing the life of your equipment.
The conference, which was held on Feb. 23 at the Country Club Hotel in Osage Beach, Mo., was attended by 100 people. The featured speaker was Paul Tauke, of the Iowa Department of Natural Resources, who presented a workshop on "Identifying and Establishing Your Forest Management Goals".
Other workshops included "Understanding and Improving the Health of Your Forest" presented by Bruce Moltzan, Forest Pathologist with the Missouri Department of Conservation and "Cost Share Assistance for Landowners" presented by Doug Wallace, State Staff Forester with the Natural Resouces Conservation Service.
If you are interested in attending a demonstration by Joe Glenn or hosting one in your area, contact him at 573-223-3427 or e-mail to joeandjan22@hotmail.com
---
[ Back to Articles ]