Green Horizons
Volume 7, Number 1
Spring 2002

Jim Drew Awarded 2001 State Tree Farmer of the Year
Bob DeWitt
Private Lands Regional Supervisor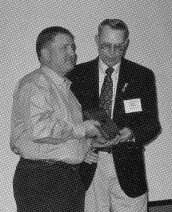 Photo Courtesy of the Drew Family

2001 Missouri Tree Farmer of the Year Jim Drew receives his award from State Forester Bob Krepps at the 22nd annual Tree Farm Con-ference. Each year the recipient is recognized for outstanding application of forestry practices in their woodland.

At the 22nd annual Missouri Tree Farm Conference held recently at Osage Beach, Mo., Liberty, Mo. resident and Caldwell County landowner Jim Drew was recognized as the 2001 State Tree Farmer of The Year by the Missouri State Tree Farm Committee.

Jim Drew has been actively involved in forest and wildlife management on his 230 acre Caldwell County farm since initially purchasing 140 acres in 1988. The Drew Farm has been a Certified Tree Farm for almost twelve years. With his wife Kathy keeping the home-fires burning, Jim has involved their sons in outdoor activities on the farm from the earliest possible opportunity. Sons Logan, 15, Jordan, 13, and Jameson, 9, have routinely accompanied their father on trips to the farm and participated in a wide variety of recreational as well as work-related activities.

While it should be obvious that the Drew family, led by father Jim, has done substantial natural resource management work on their farm, a quick list of management practices implemented shows the width and breadth of their accomplishments -- tree planting, walnut pruning and release, timber stand improvement, wildlife openings, foodplots, brushpile construction, edge feathering and timber harvesting. A unique characteristic of the Drew's activities is that all of the practices, except harvesting (which is generally left to professional loggers) have been completed by Jim and his sons. Also, harvesting is motivated by wildlife habitat improvement and the need for funds to implement other conservation practices on the farm rather than monetary gain.

Perhaps even more important than the natural resource improvements that have been done, is Jim Drew's willingness to share with others what he's learned and accomplished over the years. Jim has hosted a number of tours and workshops where school, scout and landowner groups have been introduced to the wide variety of conservation work that has been completed. Jim is also an active member of his local chapter of the National Wild Turkey Federation, whose fundraising activities each year raise thousands of dollars for landowner conservation programs.

Jim has been active with the Missouri Tree Farm System state committee as a landowner representative since his award as Missouri Region One Tree Farmer of the Year in 1999. Jim received additional recognition in 1999 for his and his family's efforts when the Missouri Conservation Federation awarded Jim with its "Forest Conservationist of The Year" award. In part, this award was received because of Jim's efforts to conserve the forest resource in a part of the state (northwest) where commercial production agriculture dominates the landscape.

Jim is quick to share his honor with others and credit their assistance in his activities. Jim began working with Missouri Department of Conservation foresters just shortly after purchasing his initial acreage - a relationship that continues to this day with his participation in the Forest Stewardship Program in an effort to ensure a sustainable forest resource. Jim and the foresters have also coordinated heavily with the USDA office in his county and he has utilized the Wildlife Habitat Incentives Program (WHIP) to help accomplish his management goals.
---
[ Back to Articles ]