Green Horizons
Volume 4, Number 2
Summer 1999

Perceptions of log buying
After hearing over and over again that log buyers and mills would not buy anything smaller than a 16-inch butt log, Tree Farmers Larry Harper and Scott Brundage decided to take an inventory of their own. In January they made a quick tour of sawmills in the mid-Missouri area and took measurements of logs in the log yards.
It was estimated that a high percentage of the logs in the mill inventories measured less than 16 inches. In fact, it was determined that between 20 percent and 30 percent of the logs were less than 12 inches in diameter with several in the 9-inch range.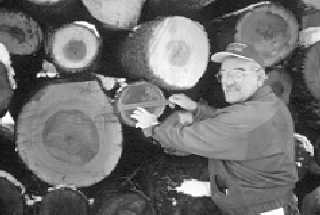 Larry Harper measures small logs in mill inventory.