Green Horizons
Volume 4, Number 2
Summer 1999

Logging trailer for ATVs
Tree Farmers in Larimer County, Colorado watched as a 15-inch by 14-foot green ponderosa pine was lifted onto a special logging trailer and hauled out of the woods up a steep, rough dirt road with a Kawasaki 400 ATV.
The logging trailer was built by Rafael Ramos who says it is performing well. In addition to carrying single logs, multiple logs of smaller diameter can be carried. On one occasion, Ramos reports transporting a 15-inch corrugated culvert pipe 16 feet in length. Logs up to 20 feet long and 16 inches in diameter have been moved in rough terrain with the unit.
The trailer is constructed of 11-gauge, 2- by 3-inch rectangular tubular steel. Stub axles are welded and reinforced to the open end of the horizontal, U-shaped frame.
When loading, the trailer is backed to the log or the log can be winched into the open end of the trailer. After raising one end of the log, a chain is hooked at the bottom of the frame to hold the log up while the other end is hoisted and another chain is hooked to the bottom on that side. Stakes can be inserted on the side of the trailer to allow stacking of small wood, using the chains as the floor of the trailer.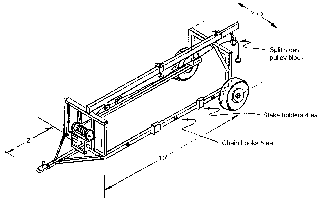 Specifications:
Frame: 11-gauge, 2- by 3-inch rectangular tubing Tongue weight: 140 lbs. unloaded Tires: 5.30 x 12 trailer Stub axles: Northern Hydraulics 3,500 pounds Hubs: Northern Hydraulics 3,500 pounds Winch: Sears "used"
(Material for this article taken from the January 1999 issue of Tree Farmer magazine)