AgEBB-MU CAFNR Extension
Green Horizons
Volume 25, Number 1
Winter 2021
Become a Tree Keeper
Meridith McAvoy Perkins, Executive Director, Forest ReLeaf of Missouri
Tree care can be an intimidating topic. Whether you are managing problems on established trees or trying to plant new ones, just figuring out where to begin is a challenge. Books can be outdated or too general. Online resources are often specific to the wrong region, contradictory or outright wrong. Wouldn't it be great if you could get accurate advice and instruction from local industry professionals, for free, from the comfort of your home? This winter you can!
Forest ReLeaf of Missouri's TreeKeepers classes, presented by Forest ReLeaf of Missouri and sponsored in part by the Missouri Department of Conservation, will be offered February 17th-March 10th, 2021. Classes will be held online each Wednesday night from 6-8pm. This free, six-week course will educate citizens about trees, their benefits and care, and will provides practical, hands-on learning in six key areas: identification, biology, soils, planting, pruning, insect, and diseases.
Each topic will be presented by guest speakers and Forest ReLeaf staff. We will walk you through the steps of good tree care, beginning with tree species identification. You'll learn the basics of how a tree functions, what its needs are, and how you can meet them. We'll discuss the challenges and problems you might face and how to handle them. Classes will include classroom-style presentations as well as practical demonstrations to show you the theory and practice of tree care. Presenters will be available to answer questions in real time to give you the information you need to succeed.
At Forest ReLeaf of Missouri, citizen stewardship of trees is vital to our mission of "planting trees and enriching communities." Trees provide invaluable services to our communities. They clean our air and rainwater, lower our blood pressure, cool our summer air temperatures and increase real estate value. Become a Tree Keeper and you can help your community get the most out of these benefits!
No prior experience required. Graduates are asked to provide 24 hours of volunteer service to Forest ReLeaf or in forestry-related projects in their community. For more information email us at info@moreleaf.org. Register at https://moreleaf.org/learn/educational-programs/.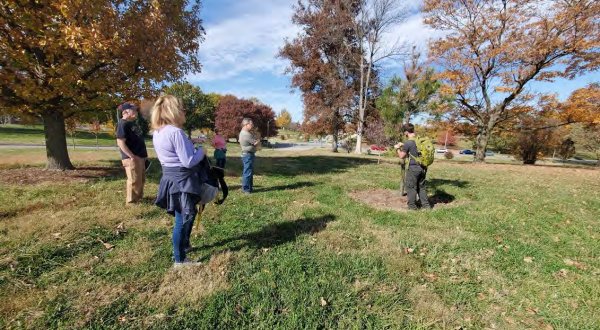 Forest ReLeaf of Missouri's Forestry Manager Mark Halpin leads
a Tree Keepers class in Forest Park.