AgEBB-MU CAFNR Extension
Green Horizons
Volume 25, Number 1
Winter 2021
The Case of the Mystery Seed
Sarah Phipps, Missouri Department of Agriculture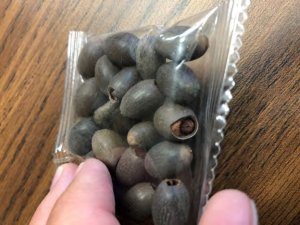 Packet of acorns received in an unsolicited
seed shipment from China.
Photo credit: Collin Wamsley
Every detective case begins with a deep voice describing the scene, "On a Friday, late in the afternoon... the end of July 2020, the state entomologist was nestled in his office when he came across a curious email. Unsolicited seeds from China were being sent to Missourians. Residents across the state were receiving small packages containing seeds labeled as earrings, rings and other small items. What sort of seeds, you ask? Why are they being shipped to people that didn't order them? Well, that is part of the mystery. Stay with me as I explain."
The scam is called "brushing." An e-commerce vendor acquires names and addresses and creates fake accounts. They ship the unaware recipients an inexpensive product, seed in this case. Once shipped, the vendor, under the guise of the recipient, submits a five-star positive review on the recipient's behalf to boost ratings and increase visibility on e-commerce sites.
The narrator continues, "What is the trouble of this "brushing" scam? Well take your pick: The unsolicited seed could be invasive, introduce diseases to local plants or be harmful to livestock. All foreign seeds shipped to the United States should have a health certificate guaranteeing the seeds meet import requirements. "Unsolicited seeds can be trouble - trouble I say."
The National Identification Services (NIS) through the U.S. Department of Agriculture's (USDA) Animal and Plant Health Inspection Service (APHIS) is aiding in identifying the mystery seeds. As of Dec. 4, 2020, the USDA has collected 18,854 packages from all 50 states. Examinations of 8,482 of those packets has identified a total of 469 taxa of seeds. Most of the seeds are common horticultural and ornamental species. They include common seeds such as sunflower, Brassica (i.e., mustard plants such as broccoli, cauliflower, cabbage, rutabaga, bok choy), basil, beet, radish, watermelon, cucumber/melon, pumpkin, rose, carrot, tomato, corn, celery, dill, lettuce, pepper, onion, green bean, coriander and others.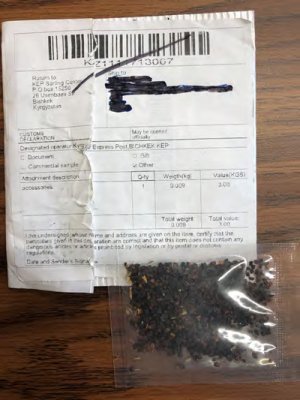 Unsolicited seeds from countries such as
China and surrounding areas. The seeds are
sent in packages usually stating that the
contents are jewelry, specifically stud earrings, bracelets and other accessories.
Photo credit: Collin Wamsley
Thus far, the USDA has detected multiple "bad players" including two quarantine insect pests using X-ray and three Federal Noxious weeds based on identifications by APHIS botanists: water spinach, Ipomoea aquatica, dodder, Cuscuta sp., and turkey berry, Solanum torvum. Also, six quarantine significant viruses or viroids have been identified using molecular testing. This emphasizes the need to raise public awareness about this scam. We want people aware that these unsolicited seeds have not followed proper protocol and, if planted, could bring an invasive pest or plant to your home garden.
Thankfully, Missouri has received approximately 1,600 reports from residents with the Missouri State Plant Health Director's office having collected approximately 800 packages and submitted 472 seed samples for identification to APHIS' National Identification Services (NIS). Missouri's species list was identified from 72 different seed taxa. Some of the seeds identified included corn, citrus, pigweed, zinnia and hibiscus seeds. Missouri received the following tree or shrub species from the seed samples: Acacia, Citrus, Malus, Moringa. Prunus and Quercus. While this is an encouraging start, we need to get the word out as much as possible to continue reporting any unsolicited seed that has been received.
The Missouri Department of Agriculture works closely with the USDA-APHIS to prevent the introduction of invasive species and protect Missouri's diverse agricultural industry. The majority of the seed packets were received in August and September 2020, but Missouri residents are still reporting shipments of unsolicited seeds. Please help spread the word that if you receive an unsolicited seed package in the mail, hold onto the seeds and packaging, including the mailing label, and contact APHIS for further instructions. Any unsolicited seeds received can be reported to: https://www.aphis.usda.gov/aphis/ourfocus/planthealth/newsinfo/unsolicited-seeds.