AgEBB-MU CAFNR Extension
Green Horizons
Volume 25, Number 1
Winter 2021
Women Owning Woodlands - Missouri
Sarah Havens, Field Specialist in Natural Resources, MU Extension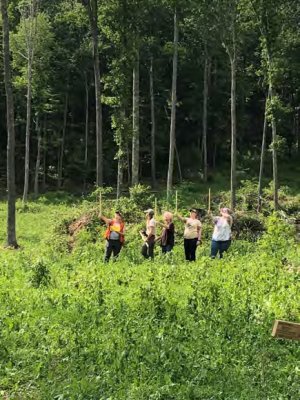 WOW participants learning to use biltmore sticks to estimate tree truck diameter and height.
Women Owning Woodlands (WOW) is a national initiative that was originally funded by the U.S. Forest Service. The program is now overseen by the Forest Stewards Guild. The initiative provides information and connections to women in natural resources positions to encourage women landowners in stewardship of their land.
The WOW program was started in Missouri in 2019. That year, introductory programs were started at several locations around the state. These programs invited women to learn about WOW and meet other women landowners. A WOW Timber Sale workshop was also held in Phelps county in November of 2019. This program was coordinated with Missouri Department of Conservation, the Natural Resources Conservation Service and the James Foundation at Maramec Springs. Ten women participants learned about the process of having a timber sale and then toured an MDC timber sale and heard from an MDC forester about the objectives of the sale.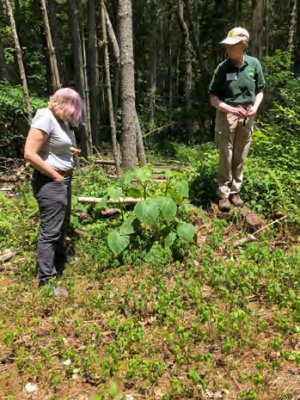 In 2020,
WOW-Missouri was set to
hold several
face-to-face programs and two field days with various partners across the state. When COVID necessitated the cancellation of in-person gatherings, Women Owning Woodlands Lunch and Learns were scheduled instead, to grow the program and allow women landowners to begin connecting with each other virtually. The virtual Lunch and Learns covered topics ranging from forest management practices to invasive species to wild edibles. Guests were included from MDC, Pheasants/Quail Forever and University of Missouri Science, Technology and Biology departments. In August of 2020, WOW partnered with Pheasants/Quail Forever in Missouri through Women Caring for the Land and held a joint forest management practices field day in Ste. Genevieve. This program covered forest stand improvement, prescribed fire and timber sales.
The Lunch and Learn events were such a success that they will continue in 2021! This year, WOW-Missouri will start hosting the Lunch and Learns on a weekly basis and with a virtual timber sale workshop in February. We will continue to offer programs virtually to try and connect women landowners with each other and with natural resources professionals. This program aims to empower women landowners in an open and inviting environment and promote good land stewardship.
Questions about WOW-Missouri can be directed to Sarah Havens, Field Specialist in Natural Resources with MU Extension at havenss@missouri.edu or by calling 573-458-6260.