AgEBB-MU CAFNR Extension
Green Horizons
Volume 25, Number 1
Winter 2021
Brown-headed Nuthatches return to Missouri pine woodlands
Kristen Heath-Acre, Research Assistant, School of Natural Resources
Frank R Thompson III, Research Wildlife Biologist, USDA Forest Service
Sarah Kendrick, State Ornithologist, Missouri Department of Conservation
Tom Bonnot, Research Assistant Professor, School of Natural Resources
Jane Fitzgerald, Central Hardwoods Joint Venture, American Bird Conservancy
Forty-six Brown-headed Nuthatches were released in restored shortleaf pine woodlands of Mark Twain National Forest in Missouri in August and September 2020 after years of collaborative effort by state and federal agencies. The Brown-headed Nuthatch is a small and charismatic songbird with a squeaky call like a rubber ducky. They were reported in Missouri over a century ago but disappeared, likely due to the loss of pine woodlands caused by exploitative logging and fire suppression in the late 1800s and early 1900s. This reintroduction was made possible by decades of habitat restoration by Mark Twain National Forest and partners as part of the U.S.D.A. Forest Service's Collaborative Forest Landscape Restoration Program (CFLRP).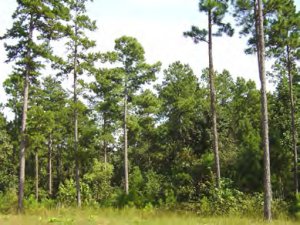 Shortleaf pine woodland.
Photo credit: MSU Extension Service/John Kushla
Many species of birds of conservation concern are benefitting from the landscape-level habitat restoration practices that are being used by the CFLRP to restore pine woodlands. However, Brown-headed Nuthatches needed a helping hand in returning to Missouri. The Brown-headed Nuthatch is a non-migratory, resident bird that does not typically fly long distances. Therefore, it was highly unlikely they would find their way to restored habitat in Missouri that is over 200 miles from the nearest populations in Arkansas. Given these circumstances, and with widespread support by stakeholders, our team moved Brown-headed Nuthatches from a large population on the Ouachita National Forest in Arkansas to southeast Missouri.
Our team worked in collaboration with state and federal agencies and conservation groups in Missouri and Arkansas and with nuthatch expert Jim Cox from Tall Timbers Research Station in Florida. We captured nuthatches in Arkansas and transported them by plane to Missouri. We marked nuthatches with color-bands and half were tagged with a tiny radio transmitter about the weight of a paperclip. This made it possible for us to track their movements and survival after their release in Missouri. Our goal is to release 100 nuthatches over two years and this year's release of 46 birds puts us well on our way to meeting that goal.
Our monitoring efforts suggest the birds are doing great in Missouri. We experienced no mortalities during the capture, translocation, and release. The birds are moving around and exploring the pine woodlands on the CFLRP, socializing in small groups as we would expect them to. This is a great example of ecosystem restoration- when you bring back the habitat, you can bring back some of the species that have been lost along the way. We brought the squeak back to Missouri! We encourage people to visit these restored shortleaf pine woodlands in the area 5 miles south of Fremont Missouri off Highway J and look for this charismatic species. There is also a self-guided tour of the larger restoration effort (https://oakfirescience.com/current-river-pinery-self-guidedtour).
Besides documentation that this bird once occurred here, this reintroduction is particularly relevant from a climate change perspective. Our research suggests these pine-woodland ecosystems are well adapted to predicted future changes in our climate. This release in many ways is a test of a practice that may be needed in the future to help some species keep pace with climate change.
Collaborative partners that made this reintroduction possible include the Missouri Department of Conservation, U. S. Forest Service's Northern Research Station, Mark Twain National Forest, Ouachita National Forest, Tall Timbers Research Station, University of Missouri, Arkansas Game and Fish Commission, the Nature Conservancy, and the Central Hardwoods Joint Venture.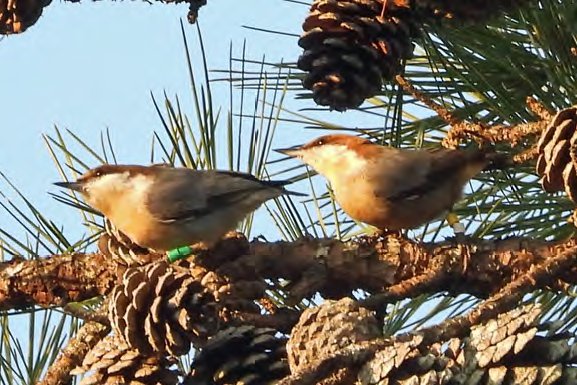 Researchers put color bands on the nuthatches prior to release so they can be individually identified when resighted during monthly surveys to determine their movements and survival.