AgEBB-MU CAFNR Extension
Green Horizons
Volume 23, Number 3
Fall 2019
Pest Patrol
EAB Found on MU Campus
By Hank Stelzer | MU Extension - School of Natural Resources
To quote the little girl in the original Poltergeist Movie, "They're heeeer." The emerald ash borer has been found along a row of green ash trees on East Campus Drive across from Clydesdale Hall. The green menace was confirmed in Ashland earlier this year. So, it was just a matter of time before making its presence known on the MU Campus.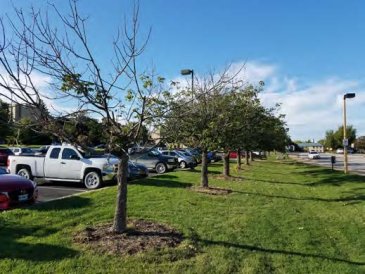 White ash trees along East Campus Drive where EAB was found a few weeks ago.
According to Pete Miller, Director of Landscape Services, there are 162 ash trees spread across the MU Campus. In FY19, his department spent a little over $4,600 treating 27 trees in high profile areas with Arbormectin™. However, Pete says in the long run, all the ash trees will need to be removed. At an average cost of $1,000 to remove a single tree, the university is looking at a total removal cost of $162,000! Then there is the cost of purchasing and transplanting replacement trees.
The demise of the ash trees and the Legacy Oak Project on the Francis Quadrangle, have the Friends of the MU Botanical Garden Advisory Board thinking of ways alumni can ensure the university has healthy greenspaces for future generations of Tigers to enjoy. Stay tuned to Green Horizons for the latest developments.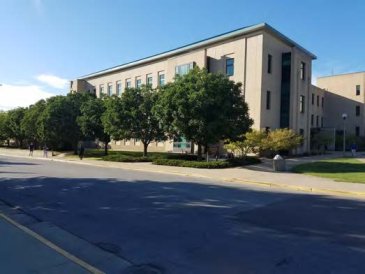 White ash trees in front of the School of Natural Resource Building