AgEBB-MU CAFNR Extension
Green Horizons
Volume 23, Number 3
Fall 2019
Specialty Nut Crops
Participatory chestnut breeding - establishing a participant network and characterizing superior on-farm germplasm
By Ronald Revord | Assistant Research Professor, The Center for Agroforestry, University of Missouri
MissouriInterest in U.S. chestnut cultivation for nut production continues to increase as a grower-led initiative. Across the Midwest U.S., grassroots development of chestnut over the past decade has led to the successful establishment of multiple farmer cooperatives (e.g., Route 9 Cooperative, Prairie Grove Chestnut Growers) and in turn many new local and regional markets. Leaders within these regional industries indicate demand perennially exceeds supply and that chestnut cultivation needs to expand accordingly. In fact, the number of chestnut farms in the U.S. grew by 57% from 2012 to 2017, including over 400 new chestnut farmers in midwestern and neighboring states. Many chestnut orchards, both old and new, are seedling-based and composed of half-sibling families from open-pollinated traditional Chinese chestnut varieties. While suitable for first-generation production, as a whole, these plant materials represent the base for genetic improvement. These trees intentionally serve the dual purpose of pre-breeding - to identify superior individuals (or crosses) that have recombined desirable traits and improved adaptability. There are nearly 7,000 chestnut seedlings of bearing-age on farms in the Midwest, which represent 20 half-sibling families. This germplasm offers an extraordinary opportunity to assemble a wide genetic base of improved plant materials required for establishing a dedicated chestnut breeding program. Building genetic improvement efforts from this pre-existing on-farm material is of the upmost importance as it builds on several decades of farmer investments and evaluations.The Center of Agroforestry at the University of Missouri seeks to formalize a participatory network of chestnut growers with the goals of characterizing on-farm germplasm and assembling core sets of breeding parents that enable systematic breeding. Accordingly, the proposal has three objectives:
develop and curate a database of existing on-farm chestnut germplasm in the Midwest US andneighboring states;
characterize the phenotypic diversity and phenology of top selections amongst the database trees,as guided by pre-existing grower evaluations;
use genetic fingerprinting to characterize the genetic diversity and parentage of the evaluated selections.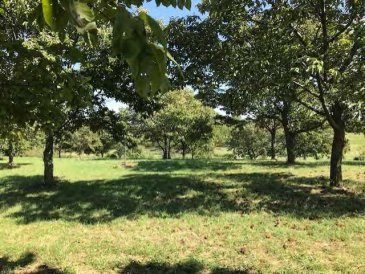 View of a chestnut orchard that is part of the Center for Agroforestry's research trials at the Horticultural and Agroforestry Research Center. New Franklin, MO Photo Credit: Raelin Kronenberg
Packaged together, this body of work will yield data that supports the selection of superior individuals for conservation and introduction into breeding schemes. Additionally, this effort will offer an opportunity to identify individuals that produce progeny more "true to type", i.e., parents or combinations thereof with greater heritability for traits of interest.Further, this may serve as a foundational study for a larger scope of breeding and genetics research on chestnut for nut production in the U.S. The outputs of this study (i.e., selected core sets) will be used to establish the Participatory Chestnut Breeding Network. The Network will be comprised of an institutional breeding program housed at the University of Missouri that works in concert with the participatory grower network to decentralize progeny selection on-farms throughout the targeted cultivation regions. This developmental framework offers a means to build off of the former grassroots efforts to help standardize means for high quality chestnut kernel production and ensure continued access/growth of respective high value markets. In brief, the research aims to serve the framework established by today's pioneer chestnut growers.
If you would like to stay informed about the Participatory Chestnut Breeding Network, contact Ron Revord at revord.r@missouri.edu