AgEBB-MU CAFNR Extension
Green Horizons
Volume 23, Number 2
Spring 2019
Urban Forestry
Educational Opportunities for Tree Care Advocates at the 2019 MO Community Forestry Council Conference
By Brett O'Brien| Columbia Parks and Recreation Natural Resources Supervisor
Community tree advocates, arborists, and other tree-care industry professionals converged recently in Saint Louis for the 26th Annual Missouri Community Forestry Council Conference. This conference offered a variety of learning opportunities with both classroom and outdoor educational sessions. In a twist to the usual schedule, the conference was preceded on Tuesday March 12th by a special all day workshop, a Tree Risk Assessment Qualification (TRAQ) renewal course. TRAQ is one of several credentials offered by the International Society of Arboriculture (ISA) to help raise the standard of tree care world-wide. The value of the TRAQ credential is that it promotes the safety of people and property by providing a standardized and systematic process for assessing tree risk. A renewal course is an essential need for Individuals with the TRAQ credential to maintain their qualification, and as a result, this course carried significant value for those in attendance.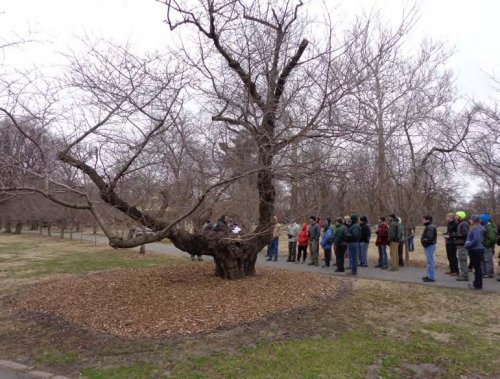 Arborist Andy Berg stands on the opposite side of this historic Yoshino Cherry in Tower Grove Park to explain the preservation plans to maintain this significant tree to MCFC attendees
On Wednesday March 13th, a morning workshop at the Laumeier Sculpture Park called "Deconstruction of Nursery Trees and BMP for Planting" kicked off the conference program. Lead by the dynamic duo of Gary Johnson, extension professor at the University of Minnesota in St. Paul, and Dr. Rich Hauer, Professor at University of Wisconsin (Stevens Point), the workshop focused on nursery trees and tree planting. Later that day, they each spoke during the afternoon sessions on concepts integral to helping MCFC members plant and maintain healthier trees.
On Thursday March 14th, the conference opened with an in-depth look at fungi and decay in trees with Dr. Chris Luley, President of Urban Forest Diagnostics LLC. Unexpectedly strong winds changed plans for an afternoon workshop with Dr. Luly scheduled at Emmeneger Park, but those willing to adapt were still able to receive an instructive lesson on tomography from Dr. Luly while examining the trees on the conference hotel grounds. Other notable presenters on Thursday covered pertinent information on EAB, climate change, developing municipal ordinances, and creating high end furniture from urban trees.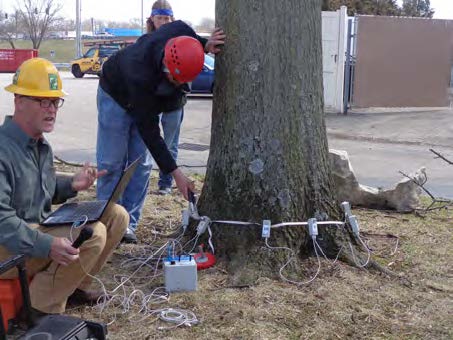 Dr.Luly (in yellow helmet) explains how the Tomograph measures the velocity of soundwaves in wood in order to noninvasively detect decay and cavities in standing trees. Austin Lampe (red helmet) assist by tapping sensors mounted temporarily on the tree with a hammer, creating soundwaves that measure decay.
The final day of the conference featured a tour of the historic Tower Grove Park with the Arboriculture Supervisor, Andy Berg. Tour attendees received an in-depth look at the park's tree management program, and learned in detail how Andy administers an inventory of nearly 7000 trees to plan and schedule maintenance tasks such as chemical applications or pruning.
By all measures, the conference was a very worthwhile educational opportunity. If you missed out, your next chance to attend will be in the fall of 2020, when the MCFC conference is scheduled to convene in Branson, at the Chateau On The Lake Resort, October 12-14. More information on future presenters and program will be available soon on the Missouri Community Forestry Council website: www.mocommunitytrees.org/