AgEBB-MU CAFNR Extension
Green Horizons
Volume 22, Number 3
Fall 2018
Urban Forestry
St. Louis Youths Join the Green Movement
By Tom Ebeling | Missouri ReLeaf
This summer, six young adults age 16-18yrs from the City of St. Louis were hired for Forest ReLeaf's inaugural Tree Tenders program. The program was funded by a Partners for Places green infrastructure grant from The Funders Network and carried out in cooperation with the City of St. Louis Office of Sustainability, City of St. Louis Parks & Recreation and Forestry, Missouri Botanical Gardens, STL Youth Jobs and Missouri Department of Conservation. The Tree Tenders program is a member of The Green Teen Alliance, a coalition of organizations that promote careers in the green industry. This alliance works together to share recruitment strategies and has developed a standardized evaluation model to measure the program's success.
Tree Tenders spent June through August working on a variety of projects ranging from picking up trash and invasive species removal in city parks to helping reclaim a forgotten historic cemetery. They were exposed to many different aspects of the green industry and had the opportunity to discuss career paths with green industry professionals. Throughout the various projects, they were educated about invasive species ecology, plant and tree identification, hand tool and herbicide safety and environmental stewardship. They also had several opportunities for "park appreciation", which involved exploring the many wonderful natural areas that can be accessed throughout the City of St. Louis. Mariah McGhee, currently a senior at the University of Missouri in Columbia, was the Forest ReLeaf summer intern that supervised the group as part of her capstone project.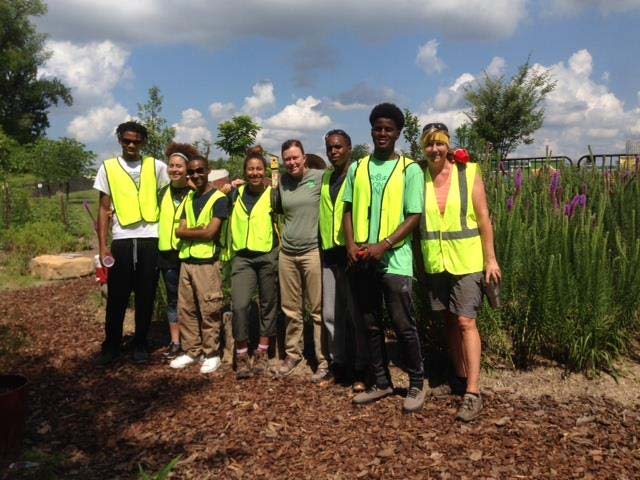 Tree Tenders at the pollinator garden, Museum of Transportation. Left to right: Jamarr Williams, Emma Connell, Malakk Reed, Mariah McGhee (supervisor), Liana Kopp (FRM volunteer coordinator), Antonio Smith, Assante Pressley, Tessa Wasserman (Museum of Transportation, FRM volunteer).
Given the success of the inaugural program, Forest ReLeaf is seeking funding to continue hiring Tree Tenders well into the future. For more information about the program, contact Tom Ebeling at tom@moreleaf.org.