AgEBB-MU CAFNR Extension
Green Horizons
Volume 22, Number 3
Fall 2018
Agroforestry
Geosmithia morbida Detected in MO
By Robbie Doerhoff & Natalie Diesel| Missouri Department of Conservation
Thousand cankers disease (TCD) has been a concern for Missouri's native black walnut trees since 2008 when the issue was first discovered in Colorado. The disease is caused by the tiny walnut twig beetle, Pityophthorus juglandis, and a fungus (Geosmithia morbida) it carries to walnut trees. While the walnut twig beetle has not been found in Missouri, G. morbida has recently been detected in several locations throughout the state. These detections were part of a cooperative research project between the Missouri Departments of Agriculture (MDA) and Conservation (MDC) and the University of Missouri Plant Diagnostic Clinic with funding provided by the US Department of Agriculture's Farm Bill program.
Missouri's recent G. morbida detections were made through genetic analysis of several beetle species collected by MDA and MDC during walnut twig beetle trapping efforts in 2016 and 2017. Ongoing research in some eastern states has shown that G. morbida can be found on many walnut-feeding beetle species (both native and exotic). Through detections in our state and others, research suggests that G. morbida is a common and widespread native species.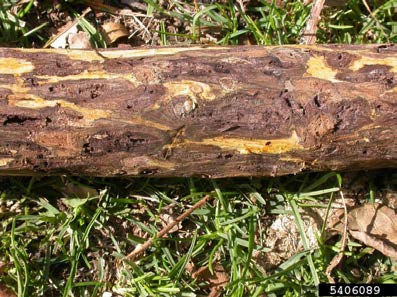 Cankers under the bark of a black walnut tree caused by G. morbida, introduced through walnut twig beetle feeding. Credit Ned Tisserat, CO State Univ., Bugwood.org.
What does this news mean for Missouri's walnuts? The good news is that on its own, G. morbida is not known to kill walnut trees. For TCD to develop on a walnut tree, walnut twig beetles must introduce G. morbida under the bark; the fungus is not known to cause cankers on trees without the help of walnut twig beetle (other beetle species are not thought to be good vectors). Since the walnut twig beetle has not been found in Missouri, we do not think that G. morbida poses a threat to our walnut trees at this time. There will be no regulatory actions or quarantines resulting from the discovery of G. morbida in Missouri.
Landowners are encouraged not to preemptively harvest walnut trees as a reaction to the discovery of G. morbida in our state. However, landowners should keep an eye out for the symptoms of TCD on walnut trees and report any declining pockets of walnut to their local MDC forester. To review photos of the signs and symptoms of TCD on walnut trees or to report possible TCD, please visit www.treepests.missouri.edu. If you have questions regarding TCD or the recent G. morbida detections in Missouri, please contact MDC Forest Pathologist Natalie Diesel at (573)815-7901 ext. 2946.