AgEBB-MU CAFNR Extension
Green Horizons
Volume 22, Number 3
Fall 2018
Agroforestry
Chestnut Roast Festival to Celebreate Center's 20th Year
By Michael Gold & Hannah Hemmelgarn| University of Missouri Center for Agroforestry
Each fall, the University of Missouri Center for Agroforestry (UMCA) brings together local tree crop producers, researchers and educators, crafts people and conservationists to celebrate the harvest with roasted chestnuts, music, farm tours, educational speakers and product booths at the Horticulture and Agroforestry Research Center farm in New Franklin, MO. This year, on Saturday, October 6th, UMCA will also be celebrating its 20th year as an established "big C" Center at the University of Missouri.
Successes of the Center for Agroforestry, established in 1998, are due to the efforts of many individuals throughout our 20 year history. Along with the founding Director of the Center, Dr. H.E. "Gene" Garrett, recognition is due for former U.S. Senator Christopher "Kit" Bond (MO) and his former colleague Sen. Dale Bumpers (AR). In a bipartisan collaboration, Senators Bumpers and Bond were instrumental in providing financial support in the 1990's to establish USDA ARS Dale Bumpers Small Farms Research Center in Booneville, AR and the MU Center for Agroforestry.
The core of Garrett's vision for the Center, To support the long-term future of rural and urban working farms and forests by achieving economic, environmental and social sustainability can be summarized well in a quote from Aldo Leopold: "A farm can be regarded as a food factory and the criterion for its success is saleable products. Or, it can be regarded as a place to live, and the criterion for its success is harmonious balance between plants, animals and people; between the domestic and the wild; and between utility and beauty."
A fourth key individual who believed in the core mission of the Center, Doug Allen established the H.E. Garrett Endowed Chair Professor of Agroforestry in 2009, and bequeathed his estate to the Center, helping to solidify our financial future. Dr. Shibu Jose was the second UMCA Director and the H.E. Garrett Endowed Chair Professor, from 2009 - 2017, and during his tenure, built upon the Center's strengths. In 2017, as Dr. Shibu Jose took the School of Natural Resources Director position, Dr. Michael Gold, who served as the Associate Director from 2002 to 2017, became Interim Director.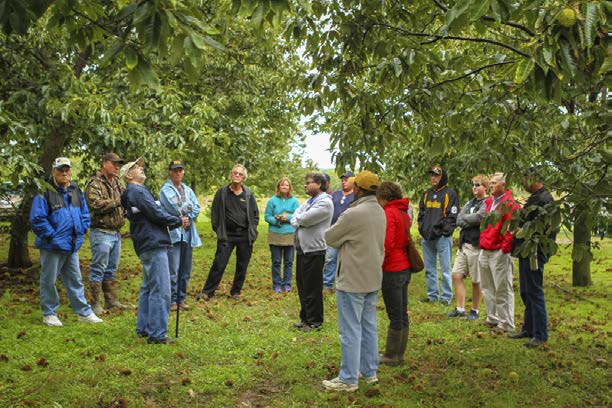 Dr. Garrett, Dr. Gold, and Dr. Jose, with UMCA faculty and staff at a public education event in the chestnut repository at HARC.
Over these twenty years, the University of Missouri Center for Agroforestry has become one of the premier centers of its kind in the world dedicated to agroforestry research, education, outreach and economic development, thanks to federal, state and private funding. The Center has been unusually blessed with long-term continuity in its endeavors. These longterm efforts are now bearing fruit on multiple fronts, and the impacts of its activities have profoundly and positively impacted landowners in Missouri, regionally, nationally and globally.
The Center's strength lies in the success of its dedicated and productive core faculty and staff, active collaborative efforts including over 50 associated faculty, staff and external partners, and graduate students and postdoctoral research associates who define, design and carry out dozens of research, teaching, outreach and economic development projects. The Center also finds strength in the diversity of its stakeholders and friends who believe in agroforestry as a major form of global land use in the coming decades.
Please join us in our celebration of 20 years of sustained effort advancing agroforestry at this year's Chestnut Roast Festival, Saturday, October 6th from 10am to 4pm. Included in this year's Chestnut Roast Festival program: Horticulture and Agroforestry Research Center farm tours, tree crop cooking demonstrations by Ben Hamrah of Peachtree Catering, native tree and plant sales from Forrest Keeling and Missouri Native Plants Society among others, soil erosion rain simulations from NRCS, a corn maze and pumpkin picking patch for kids, historic Hickman House tours, and so much more! Questions? Visit the event page "Chestnut Roast Festival 2018" on Facebook or view the event flyer and other agroforestry news atn www. CenterForAgroforestry.org