AgEBB-MU CAFNR Extension
Green Horizons
Volume 22, Number 3
Fall 2018
Agroforestry
Pawpaw Beer Comes of Age
By Andrew L. Thomas| MU Division of Plant Sciences
Having eaten an occasional wild pawpaw as a kid, I had always been interested in the possibility of cultivating this very unique native fruit. Following the introduction of several terrific improved cultivars, the opportunity to establish a pawpaw research trial became imperative in 2003, when two significant orchards totaling 112 trees were established at the University of Missouri's Southwest Research Center at Mt. Vernon. The main study consisted of eight of the most promising cultivars planted in random, replicated plots. For years, the pawpaws thrived, produced tons (literally) of fruit, and lots of valuable data.
Like any crop, pawpaw production has its issues, but we quickly learned that they are relatively easy to grow and are very productive. The orchard eventually produced so many pawpaws (in fall, when I was perpetually short on help), that I had little choice but to dump the harvested fruit into huge compost piles. After all, I needed data, and even though I really like pawpaws, eating one fruit a day is all I can handle!
Eventually, local pawpaw enthusiasts began to object to me simply dumping the fruit. I had to underscore that I am a researcher working at a research farm, and the purpose of my work is not to produce and market fruit. Pawpaws are very perishable and difficult to handle when fully ripe, but interest and momentum in producing, processing, and consuming pawpaws was rapidly growing as more folks became aware of the pawpaw research underway. As those local pawpaw enthusiasts persisted, over the last few years, several people have helped me harvest the fruit and collect data in exchange for doing me the favor of hauling away the fruit for a greater purpose. Some of the fruit has ended up in high-end St. Louis restaurants, others have been pulped and made into pawpaw butter, jam, breads, and ice cream. Most recently, there has been interest in producing high quality pawpaw beer.
In 2017, we had another huge crop of excellent fruit. Both Mother's Brewery (Springfield, MO), and Boulevard Brewery (Kansas City, MO) were interested in challenging their brewmasters to produce a pawpaw beer. The Giving Grove, a non-profit, inner-city "food forest" gardening group in Kansas City, also jumped in to help with the harvest and the connection to Boulevard Brewery. When interests and efforts aligned, we harvested about 500 pounds of ripe pawpaws for beer-making late last summer and shipped them to Kansas City.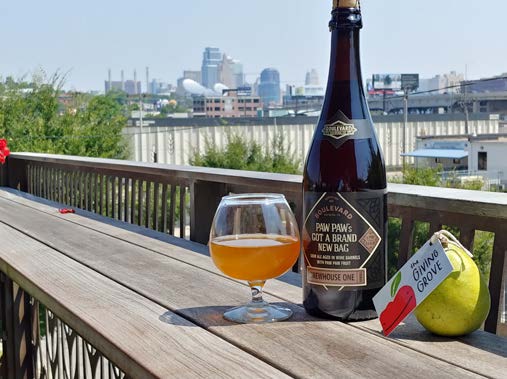 Pawpaw beer: a collaboration with MU, The Giving Grove, and Boulevard Brewery. Credit Amanda Lindahl
I had not thought about all of this for a while, when suddenly in July, I got an email indicating that Boulevard's brand new Pawpaw Beer was to be debuted at a special invitation-only, paid event (a fund-raiser for The Giving Grove), and the beer was to be officially released to the public during a big "release party" event on Saturday, July 22. The very limited edition beer is called "Paw Paw's Got A Brand New Bag," named after a 1966 James Brown song. I also learned that the beer was to be priced at $25 PER BOTTLE. I had to go! The release party was a blast. And the beer is delicious!
Boulevard describes the beer as "beginning life as a Belgian-style golden sour...then transferred onto fresh pawpaws...allowed to age six months...then an additional month fermenting out in a stainless steel tank. The resulting beer bursts with bright notes of mango, tropical custard, earthy brettanomyces and a pleasant citric acidity. With soft lactic acidity and a touch of bracing acetic character, this sour ale melds flavors of tropical fruit, banana and the namesake pawpaw with drying oak and an airy body with near effervescent carbonation."
I am very pleased with how all of this unfolded. The limited edition beer was very well-received during the private event of Kansas City beer connoisseurs, where folks also tasted pawpaw ice cream (locally made with pulp purchased from Ohio) and a pawpaw "curd" on a cheesecake type dessert. The event raised more than $1,000 for The Giving Grove, a group that works to educate and establish neighborhood orchards and food forests. Boulevard produced less than 1,000 bottles of pawpaw beer. They want to keep this beer special and limited, so will not likely produce it every year. Ultimately, the goal of this effort is to facilitate the creation of significant markets for pawpaws produced by farmers, not the university. I am confident that this very exciting development over the last year is a huge step toward achieving this goal.