AgEBB-MU CAFNR Extension
Green Horizons
Volume 22, Number 2
Spring 2018
Agroforestry
MU Programs Join Forces for Successful Woodland Workshop
By Lindsey Hethcote| Agronomy Field Specialist, MU Extension
The Missouri Woodland Steward Program and the MU Center for Agroforestry recently joined forces for two recent workshops held at MU's Wurdack Research Center in Cook Station Missouri. The workshops, entitled "Managing Forest Resources: Timber Stand Improvement, Forest Farming and Mushroom Cultivation", were both highly successful. Attendance was superb, with 77 people traveling to the Ozark research center from all over the state of Missouri, as well as a few from Illinois.
During the workshops, participants learned theory and background information in the classroom, and then went outside to partake in hands-on activities. During the morning session, Hank Stelzer, Associate Professor of Forestry Extension at MU, gave attendees a crash course in tree identification and the basic principles behind timber stand improvement. After his presentation, participants went out into the woods at Wurdack and learned about crop tree selection. They discussed why they would select certain crop trees, as well as methods available to eliminate unwanted trees.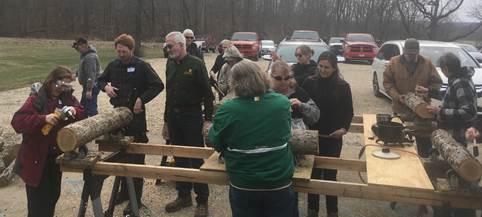 Hethcote and Stelzer oversee workshop participants as they inoculate white oak logs with Shiitake spawn.
In the afternoon, Gregory Ormsby Mori, Education and Outreach Coordinator at University of Missouri Center for Agroforestry, taught about forest farming and mushroom cultivation. Participants covered the basics in the classroom and then headed outside where they inoculated their own white oak log with Shiitake spawn to take home. Gregory also provided a hands on demonstration of how to grow Oyster mushrooms on totems, as well as how to grown Wine Cap Stopharia mushrooms on a bed of mulch and straw.
The workshops were coordinated by Dusty Walter, Superintendent of Wurdack Research Center, Brent Booker, Farm Manager at Wurdack Research Center and Lindsey Hethcote, Crawford County Agronomy Specialist for MU Extension. The workshops were hands-on and covered topics that are of much importance to Missourians living in and around the Ozarks.