AgEBB-MU CAFNR Extension
Green Horizons
Volume 22, Number 2
Spring 2018
Agroforestry
2018 Missouri Tree Farm Conference: A Successful Event
By Laurie Coleman| Executive Director, Forest and Woodlands Association of Missouri
This year's Tree Farm Conference was held April 13-14. The event commenced on Friday afternoon at the Missouri Department of Conservation (MDC) Northeast Regional Office in Kirksville, MO. Matt Jones, Missouri Tree Farm Committee Chair, introduced Laurie Coleman, Executive Director for the Forest and Woodland Association of Missouri (FWAM). FWAM was founded in 2011 as a public advocacy voice for privately owned woodlands, to promote healthy, productive and sustainable forests and trees. They also administrator the Missouri Tree Farm System. Jones also introduced Lisa Allen, MDC Forestry Division Chief, who welcomed attendees.
David Watson, Independent Financial Advisor with D.A. Watson & Company and Hank Stelzer, State Forestry Extension Specialist with the School of Natural Resources at the University of Missouri started off the afternoon with a presentation on succession planning. They discussed the importance of communicating with one's heirs, and described legal approaches to transferring family forestland.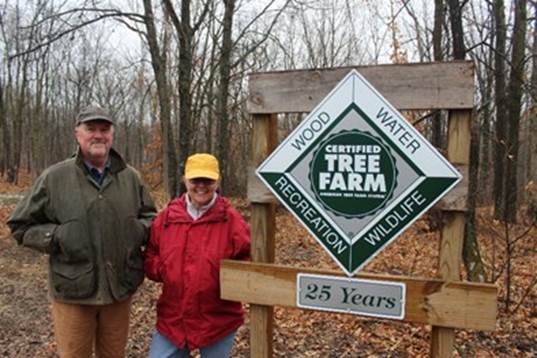 Gary Gordon and Elaine De Jovin proudly display their Tree Farm sign at the entrance to their 142-acre property in Schuyler County.
Robbie Doerhoff, MDC Forest Entomologist, gave a Missouri forest health update. She discussed common diseases and pests affecting our native trees, including identification tips and management possibilities. Damaging pests, fluctuating weather patterns, and invasive species all play key roles in the health of our woodlands.
Danny Hartwig, MDC Forestry Regional Supervisor/ CWD Mandatory Sampling Incident Commander, provided a session on Chronic Wasting Disease (CWD). CWD is a deadly illness in white-tailed deer and other members of the deer family, called cervids. The disease has been found in Missouri and is slowly spreading.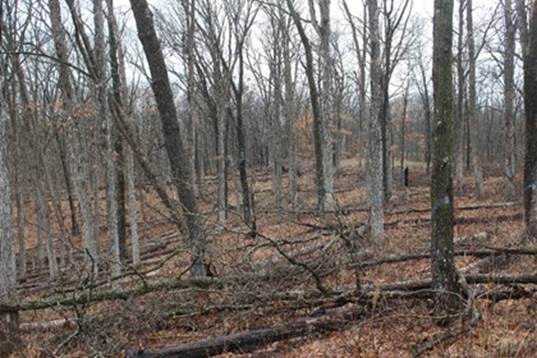 Gary and Elaine have successfully integrated good forest management in stands capable of producing quality timber and early successional wildlife habitat management on other parts of their property to favor their much- beloved woodcock.
Hank Stelzer ended the afternoon programs with a discussion on the status of white oak in Missouri and lack of good reproduction. The key to oak regeneration success is reducing overhead competition to increase light to the forest floor for abundant and vigorous advance reproduction.
Friday evening was filled with much camaraderie as guests enjoyed a social, silent auction and award ceremony. Mike Morris, MDC Forest Products Supervisor presented the Outstanding Tree Farm Inspectors with plaques and Matt Jones awarded Garry Gordon and Elaine De Jovin as the 2017 Tree Farmers of the Year. Garry and Elaine have actively managed their Putnam County property for timber and wildlife for nearly 35 years. They have been Tree Famers for 31 years and have completed management on nearly every acre of their 142-acre property.
On Saturday morning approximately 40 attendees met at the Savannah Ridge Tree Farm where they were greeted by hosts Garry and Elaine. The morning was a little damp and muddy but that didn't deter attendees on the walking tour. Craig Williamson, MDC Private Land Conservationist, along with Consulting Forester Phil Sneed and MDC Resource Forester Richard Nesslar gave presentations on hardwood management, harvesting (group openings, clearcuts, single-tree harvests), timber stand improvement, food plots and prescribed fires. Someone asked what was the best piece of advice Garry and Elaine could give a beginning Tree Farmer. "That's easy," said Garry, "don't be afraid to cut a tree."