AgEBB-MU CAFNR Extension
Green Horizons
Volume 22, Number 1
Winter 2018
Agroforestry
Common Hardwood Response to Dicamba and 2,4-D
By Brian Dintelmann| University of Missouri Weed Science
The commercial release of dicamba tolerant soybean and cotton technology (Xtend) has given farmers additional methods for controlling problematic broadleaf weeds such as waterhemp that are commonly found in Missouri soybean fields. In the near future, Enlist technology will be released which confers resistance to 2,4-D in cotton and soybean. The adoption of dicamba and 2,4-D tolerant technology will lead to increased applications of these herbicides. Increased applications of dicamba and 2,4- D throughout the growing season on a larger number of crop acreage will likely increase the risk for off target movement of dicamba and 2,4-D to nearby sensitive broadleaf plants. Not only is this a concern for neighboring soybean farmers who do not plant Xtend soybeans, but is also a concern for specialty crop growers, foresters, and homeowners.
The influence of off-target movement of dicamba and 2,4-D on non-tolerant soybean has been extensively studied, however, limited research has been conducted to determine the sensitivity and impacts of these herbicides on various hardwood tree species. In an effort to fill this need, weed scientists at the University of Missouri conducted a research trial in 2017 to investigate the sensitivity of various hardwood species to driftable fractions of 2,4-D and dicamba. Some of the hardwood species that were included in this study included black walnut, pecan, pin oak, and others.
The results of this study indicate that different species vary greatly in their sensitivity to 2,4-D and dicamba. For example, black walnut trees exhibited extreme sensitivity to 2,4-D but were fairly tolerant to dicamba. Although the risk for damage to black walnut trees from dicamba is minimal, it is important to recognize that at high enough rates, injury can still occur (Figure 1). Conversely, 2,4-D caused severe injury to black walnut trees. At sufficient doses, 2,4-D caused necrotic growing points and ceased new growth, in addition to causing lower stem cracking (Figure 3).
The effects of 2,4-D did not create a large amount of visual leaf response but did cause more severe damage to the plant overall.
Pecan trees are moderately sensitive to both 2,4-D and dicamba. Pecan trees exhibited more visual injury in response to dicamba compared to 2,4-D. However when driftable fractions of glyphosate were included with the 2,4-D or dicamba (as would occur with most agricultural applications), pecan trees experienced more injury from 2,4-D + glyphosate compared to dicamba + glyphosate. The take home message is that pecan trees are likely to exhibit some degree of injury if they have been drifted on with a high enough concentration of either dicamba or 2,4-D.
Oak trees are another common hardwood species that can be affected by drift from dicamba and 2,4-D. Results from this study indicate that oak trees were found to be moderately sensitive to dicamba and extremely sensitive to 2,4-D. Similar to walnut trees, oaks did not show a great degree of leaf symptomology from 2,4-D treatments but exhibited more necrosis and death of the shoot tip as well as stem cracking. However, oak trees experienced significant leaf damage and injury from dicamba treatments
(Figure 4). Dicamba also caused greater injury through the duration of the season compared to 2,4-D.
To investigate your trees for dicamba or 2,4-D injury, look for symptoms on the newest growth. Since these herbicides are most often translocated to the newest growth within the plant, they will express injury symptoms at the growing points and meristematic regions of the plant. In order to confirm that your trees are experiencing damage from dicamba or 2,4-D it is important to check all nearby broadleaf plants. Lastly, try to determine the source from which an application of 2,4-D or dicamba may have been made. Keeping detailed records of when injury was noticed, taking photographs of injury symptoms, and allowing a professional to assess the situation are all steps that will help you to understand actions to properly handle the situation.
So what are the implications if you experience drift on your hardwood trees? In most cases, trees will not experience death by driftable fractions of 2,4-D and dicamba alone. However, it is possible that trees will become weakened and will be more susceptible to insect and disease, which can have lethal impacts on trees if not treated in a timely fashion. Long-term and sequential impacts of dicamba and 2,4-D on large established trees are not well known.
For more information about dicamba or 2,4-D injury to hardwood trees and a various other species, please visit the University of Missouri Weed Science website at https://weedscience.missouri.edu/.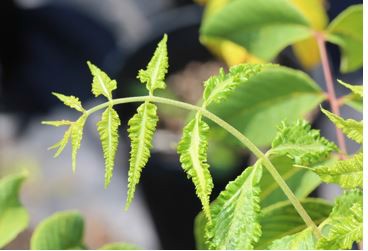 Figure 1. Dicamba injury on Black Walnut tree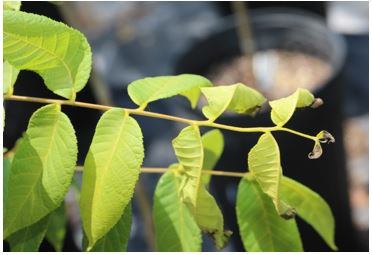 Figure 2. 2,4-D injury on Black Walnut tree;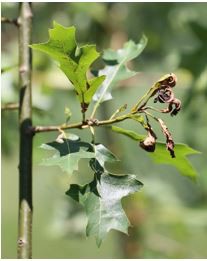 Figure 3. 2,4-D injury on Pin Oak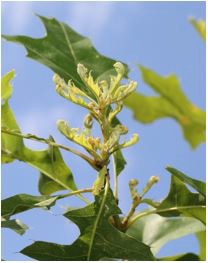 Figure 4. Dicamba injury on Pin Oak