AgEBB-MU CAFNR Extension
Green Horizons
Volume 21, Number 1
January 2017
Dr. Mark Coggeshall is the New Project Leader for the HTIRC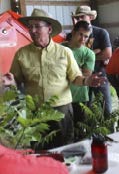 Dr. Coggeshall giving a grafting demonstration during the 2016 Agroforestry Academy. Photo Credit - Christopher W Evans.
UMCA's Dr. Mark Coggeshall has been hired as the new Project Lead Scientist and Co-Director of the USDA Forest Service Hardwood Tree Improvement Research Center (HTIRC), West Lafayette, IN. Mark will start his new position on January 15th, 2017. Dr. Coggeshall is an Assistant Research Professor of Forestry with MU and UMCA where he focuses on hardwood tree improvement and improved nut tree cultivars for use in agroforestry systems.
Dr. Coggeshall spent twenty years working in Indiana developing genetic improvement programs for a number of fine hardwood tree species. In order to take advantage of a number of research projects he has established in Missouri over the past 17 years, he plans to split his time between West Lafayette and Columbia, Missouri. Many of Mark's UMCA research projects complement studies being conducted at the HTIRC. Dr. Coggeshall hopes to broaden the focus of the current HTIRC research portfolio to include new and expanded collaborations with other institutions throughout the Midwestern U.S. and beyond.