AgEBB-MU CAFNR Extension
Green Horizons
Volume 20, Number 3
September 2016
Forest Management
Missouri's Tree Farm System
By Matt Jones, Vice Chair | Missouri Tree Farm Committee
Every year, the Missouri State Tree Farm Committee holds the annual Missouri Tree Farm Conference to honor the Missouri State Tree Farmer of the Year. Twenty-sixteen marks the 75th anniversary of the national Tree Farm program. This year the conference was held in Annapolis on April 29th and 30th to honor Iron County Tree Farmer Steve Lovell. During the indoor session on Friday afternoon, attendees received updates regarding changes to the Forest and Woodland Association of Missouri, Forestkeepers, and the new Missouri Managed Woods program. This was followed by an excellent presentation on the financial aspects of tree farming by Tree Farmer and Certified Financial Planner David Watson. Mr. Watson talked about taxation, establishing a cost basis, and successional planning. While not as much fun or as exciting as doing work on the ground, these topics can make or break a family legacy. Awards were given to Mr. Lovell as the Tree Farmer of the Year, and to the top inspecting foresters. MDC Resource Forester Jason Severe was honored as the Inspecting Forester of the Year. Mr. Lovell gave a heartfelt speech thanking by name everybody who had ever helped him with the management of his Tree Farm.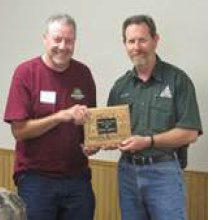 Iron County Tree Farmer Steve Lovell and Matt Jones, Vice Chair, Missouri Tree Farm Committee
Due to some good fortune, the rain stopped just in time for the field portion of the conference at Steve Lovell's Tree Farm on Saturday. Mr. Lovell bought his property in 1998 and shortly afterward contacted the Resource Forester Matt Jones for assistance with managing it. Steve has stated that one of his goals was to grow high quality timber. Unfortunately, Jones had to explain to him that growing high quality timber would not be possible right away due to the property being "high graded" before he purchased it. High grading occurs when only the very best trees are cut, leaving poor quality, stressed trees behind. These trees will never develop into high quality timber. Jones recommended a very heavy cutting that removed most of the poor quality trees and created ample space for a new crop of trees to sprout up. One goal of this management is to identify the best trees at an early age and periodically thin around them to maintain a healthy growth rate. The cutting was done in 2003 and the conference attendees were able to see the results of thirteen years of growth. What was once nearly barren ground just after the cutting, was now a thick area of 20 to 25-foot tall trees.
Participants heard about feral hog issues from Wildlife Biologist Mark McClain. McClain talked about hog reproduction rates, baiting and trapping hogs, and MDC efforts to eradicate feral hogs. Mr. Lovell has a hog trap on his property and with the help of his neighbor they have trapped and disposed of nearly two dozen feral hogs. Private Lands Conservationist Julie Norris spoke about food plots and wildlife watering holes. Mr. Lovell has five food plots and watering holes on his property. Norris talked about how to locate the food plots and water holes throughout the property to maximize their value for the wildlife. She also talked about how to maintain the food plots and what would be good to plant in them.
Feedback from the participants indicated that they really enjoyed the conference. As Tree Farmers and landowners, they like to be out on the land. They really appreciated the opportunity to see firsthand how the trees and the wildlife responded to the work Mr. Lovell has done. A big part of these tours is the discussion the Tree Farmers have amongst themselves about the practices they are seeing and how they compare to their property.