AgEBB-MU CAFNR Extension
Green Horizons
Volume 21, Number 1
January 2017
Forestry Management
Returning Fire to Forest Management—Part 3: In the future, fire will...?
By Michael C. Stambaugh | Associate Research Professor, School of Natural Resources, University of Missouri and
By Daniel C. Dey | Research Forester, U.S. Forest Service
In Part 2 (May issue of Green Horizons), we discussed common challenges and opportunities encountered with using prescribed fire to manage forests. Prescribed fire is fire applied to a predetermined area within a prescribed set of conditions and dates, and with appropriate safety precautions to achieve specific purposes. Here, we provide perspectives on the future of prescribed fire, by outlining current trends and issues.
Current trends relating to fire
Decreased regeneration of oak: Oak regeneration is declining across large regions of the eastern U.S. The primary causal factor is considered to be lack of disturbances that favor oak over other species. Compared to many other trees in the region, oak is resistant or tolerant of drought and many common forest diseases, valuable to local forest product economies, and an important wildlife food source. Prescribed fire is commonly used to favor oak over other tree species.
Increased acres in prescribed fire: Over the last few decades, prescribed burning has been occurring on increasingly more public and private lands. However, due to past advertising campaigns about preventing wildfires (Smokey the Bear), many people are unfamiliar with the history of fire use, the ecological role of fire in shaping natural communities, and the benefits of fire in the management, restoration and conservation of forests in their area.
Changing climate conditions affects fire: Fire is fundamentally a chemical reaction that is linked to weather and climate. For thousands of years, fire activity has varied with climate conditions. Fire is projected to increase in activity throughout the eastern U.S. under numerous models used in predicting future climates.
Smoke conflicts with society: In a more populated world, there is increased potential for smoke to effect people. Though temporary, smoke can negatively affect human health (via air quality) and safety (visibility). Prescribed fire will produce smoke, therefore, planning requires understanding, predicting, and managing smoke dispersion to minimize negative impacts to human health. The ability to prescribe burn will be complicated by changes in air quality laws and regulations.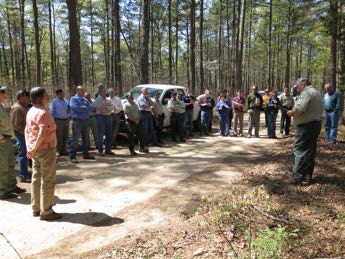 A large group discusses fire and forest management on the Mark Twain National Forest in southern Missouri. Represented are individuals from state and federal land management agencies, private conservation organizations, university faculty, industry leaders, and national congressional representatives. Photo: Daniel Dey.
Increased multiple use of lands: Whether on public or private lands, there is often a need or interest in multiple uses such as recreation, timber production, and wildlife management. Certainly, not all uses may be possible or compatible. With prescribed fire, managing for multiple uses presents new challenges and requires careful attention to fire behavior and conditions to minimize conflicting ecological and social resource goals such as conserving biodiversity and producing quality, high value timber.
Experience versus science: Unlike most natural scien-ces, fire science has only existed for a few decades. For this reason, there is a general lack of scientific-based information related to fire. Fire management occurs regardless and, often times, observers hold knowledge and experience that is not available in books. For this reason, sharing of information between fire managers and scientists is important. Currently, groups like the prescribed fire councils and the National Fire Science Exchange Network, work to promote safety, provide training, and share technical fire information (see National Fire Science Exchange Network, www.firescience.gov/JFSP_exchanges.cfm).
In the future, fire will...?
Based on the trends discussed above, the future use of fire in forest management hinges on diverse issues. Many of these trends will continue and new ones will emerge that make prescribed fire management more challenging. Nearly all of these trends relate to people, their choices and what they value; be they based on safety, needs, desires or ethics. In any case, utilizing fire in today's forest management is relatively new; both to the public and natural resource professionals alike and there is a lot to learn.
In the future, fire will primarily depend on people working effectively together, just as it has in the pas